555+ WhatsApp English Learning Groups Links for All Levels WhatsApp English Learning Groups Join For Free contains more than 30 best English Learning Groups worldwide. You can join these whatsapp English learning groups for free without any charges. These groups are English to Urdu and Hindi learning. You can share English learning content to help people around the globe. Each group consists of 257 members and groups have been set as all the members can post English learning material and may ask questions over here.
Note: For girls we created separate female groups. Join one of these groups and contact admin for being added in separate female group.
Groups Features
Serious English language learners are requested to join

other languages content is not allowed

abusing, combating and rubbish chat not allowed

illegal, mature, religion content prohibited

members are not allowed to modify group icon and team name

if you face any problem please contact group admin

avoid activity without the permission of team admin

respect is have to and should

may talk about your personal links, photos, videos

must and should follow the groups rules

Don't join more than one group

Don't make personal contacts with other members

keep on your journey well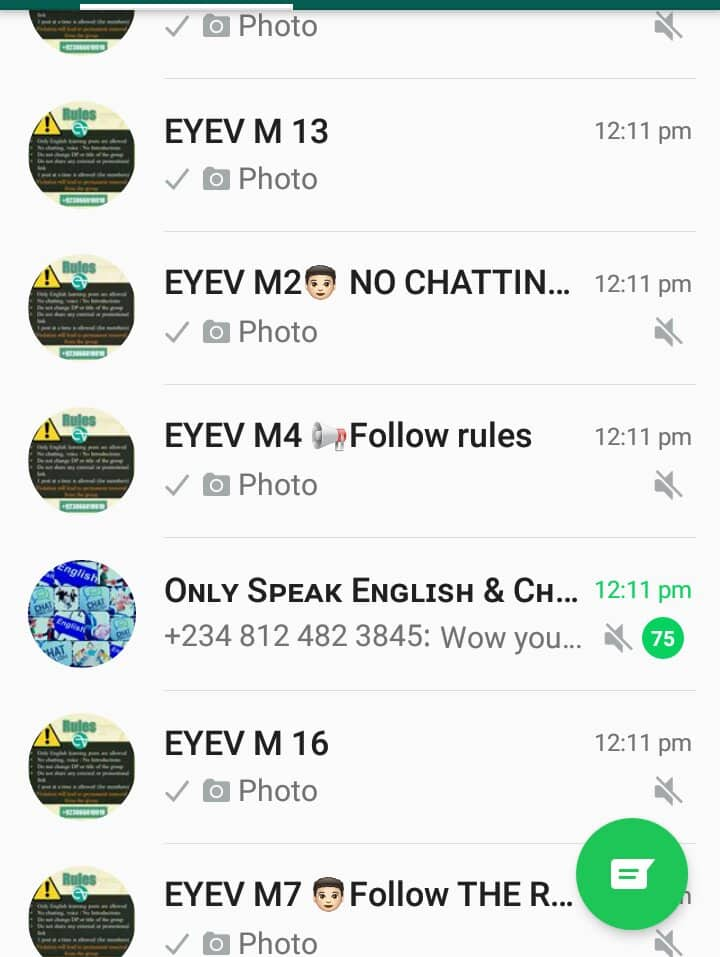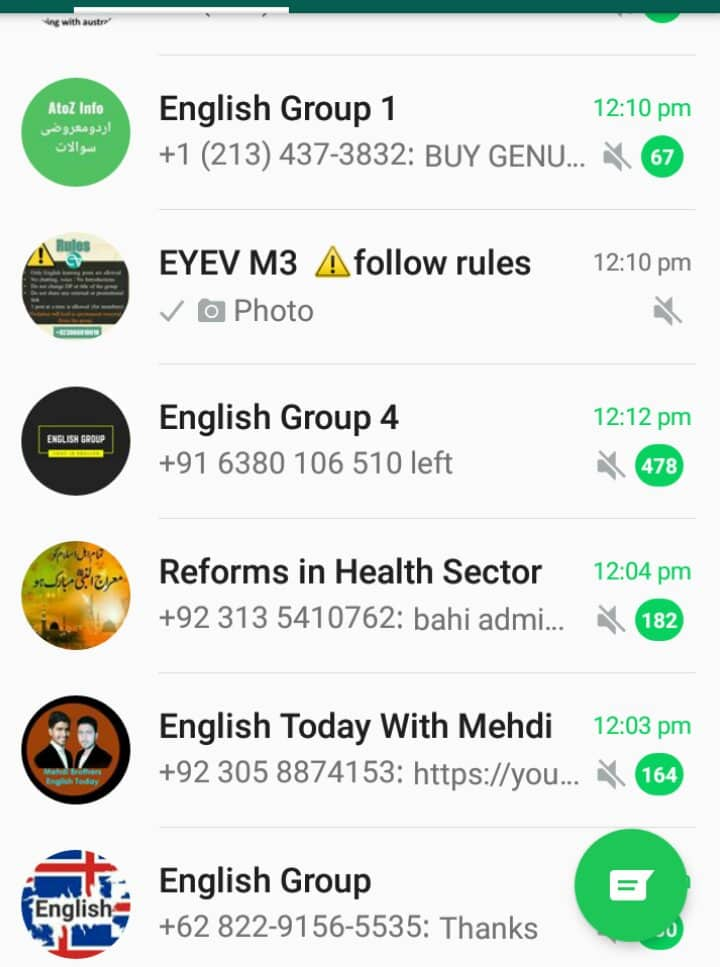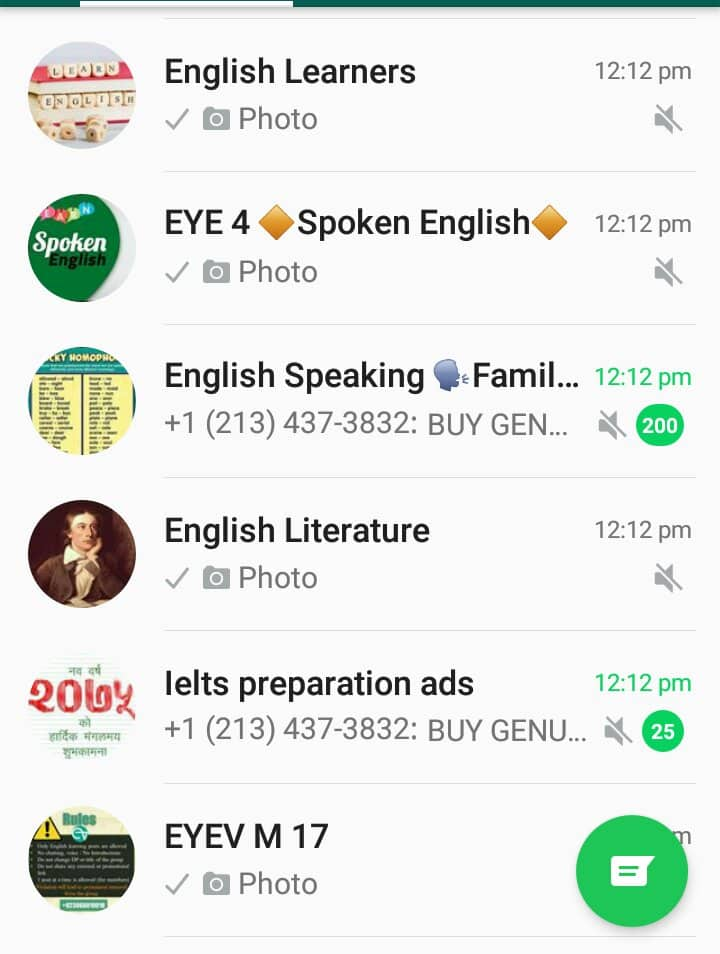 Note: All these groups are not full.
Spoken English Group 201
https://chat.whatsapp.com/FR9wxZLymIE6BbubsfbHt8
Spoken English Group 202
https://chat.whatsapp.com/IApul7Q0dVh2nWTiP0gFC5
Spoken English Group 203
https://chat.whatsapp.com/BzmnkJ25wts3OB4uY8MVrj
Spoken English Group 204
https://chat.whatsapp.com/JRaAVhulexvHe38Y7v037F
Spoken English Group 205
https://chat.whatsapp.com/IaV6bMYekER9alb41hLw0J
Spoken English Group 206
https://chat.whatsapp.com/KsENT09gnGoFq9dOYVwuRm
Spoken English Group 207
https://chat.whatsapp.com/I2w0QnIVtbqC0gk7gGfk95
Spoken English Group 208
https://chat.whatsapp.com/DU3RMVDkeIdKlwM47l2SnZ
Spoken English Group 209
https://chat.whatsapp.com/BsJU7Qsmnge0xCtgBuz6rJ
Spoken English Group 210
https://chat.whatsapp.com/Em4x5asldTyF0Gqa0TZENi
Spoken English Group 211
https://chat.whatsapp.com/I8z2BSMSgW7LCWoSpwimun
Spoken English Group 212
https://chat.whatsapp.com/BXc83llwj3YCFoRnxXXeJH
Spoken English Group 213
https://chat.whatsapp.com/Lb3uEwyzMMc1xPdwFQXyw6
Spoken English Group 214
https://chat.whatsapp.com/FbBIMbqFCgvFNfmSf4eC95
Spoken English Group 215
https://chat.whatsapp.com/KHNWKdCGcnu1FSlibsq5T0
Spoken English Group 216
https://chat.whatsapp.com/Ivak9kGSt7zDib9cCZhvv9
Spoken English Group 217
https://chat.whatsapp.com/KbzrSTngOWZ02y4DPcI40T
Spoken English Group 218
https://chat.whatsapp.com/IUwAeWIKZUg7KKWR00lJWY
Spoken English Group 219
https://chat.whatsapp.com/GwQM0BRk6oyFAB0gyTVazV
Spoken English Group 220
https://chat.whatsapp.com/KdF9qAzURem1kNASiTJ7aX
Spoken English Group 221
https://chat.whatsapp.com/EWTIDOIB8VsIXnnzEzzBsY
Spoken English Group 222
https://chat.whatsapp.com/FsCMVAsVeDs9TPJbH8SCpp
Spoken English Group 223
https://chat.whatsapp.com/KCqzpZ2Yn9D2sYyI3t5YeJ
Spoken English Group 224
https://chat.whatsapp.com/DFFY5FGCOIXELNDXwusf10
Spoken English Group 225
https://chat.whatsapp.com/IjZ2yfEhNBe3gIladEMVUX
Spoken English Group 226
https://chat.whatsapp.com/JkJU1c3MzH25Oqyptto47v
Spoken English Group 227
https://chat.whatsapp.com/LaLYGvYLKG4073i3wQaZCN
Spoken English Group 228
https://chat.whatsapp.com/FAlHw1oBoXnATU8tfuJsWw
Spoken English Group 229
https://chat.whatsapp.com/D0ZHYinrC1j76EH31zEhA0
Spoken English Group 230
https://chat.whatsapp.com/DSRVqaYwGDV4ZuJsQVt2lD
Spoken English Group 231
https://chat.whatsapp.com/K7CxQ4WqkFOHkzsfbQKWPF
Spoken English Group 232
https://chat.whatsapp.com/L7rnIzssuNJ47lczoQgusd
Spoken English Group 233
https://chat.whatsapp.com/JrfSj632RO2IhcfixFpRR7
Spoken English Group 234
https://chat.whatsapp.com/C3enUNAO5VqF2jJLjkkrd7
Spoken English Group 235
https://chat.whatsapp.com/F2i0Elm6R7PK5oMegNPskE
Spoken English Group 236
https://chat.whatsapp.com/IFCMZZFUPSI8FJo9QhiabG
Spoken English Group 237
https://chat.whatsapp.com/GkmjehcEOnOFwP7PbIzx2i
Spoken English Group 238
https://chat.whatsapp.com/FpVR6aisMzi3hqWFutB9xx
Spoken English Group 239
https://chat.whatsapp.com/ElzKewlkoW4E3xCbcDurhI
Spoken English Group 240
https://chat.whatsapp.com/FA3Tt0j81lpJtIHNtlyW5O
Spoken English Group 241
https://chat.whatsapp.com/LFYwionOhpY7UjYmDd5Vak
Spoken English Group 242
https://chat.whatsapp.com/D7nzdKuNbrbFFp7XUbsKmU
Spoken English Group 243
https://chat.whatsapp.com/LVuqctqkfLn6lRvQL9lRuR
Spoken English Group 244
https://chat.whatsapp.com/I8xCLERuTxmJunoCDwCtaG
Spoken English Group 245
https://chat.whatsapp.com/CspneyZ1kDrCY5lIfk2tmz
Spoken English Group 246
https://chat.whatsapp.com/BElM0jiwDBRL8cvbjzNYyl
Spoken English Group 247
https://chat.whatsapp.com/I8K9dB1qIs0G90BWXBzxxu
Spoken English Group 248
https://chat.whatsapp.com/Dh8pm6aCuvGAkkw2TkNRPA
Spoken English Group 249
https://chat.whatsapp.com/BBBThSsCBDR32jVRiwO025
Spoken English Group 250
https://chat.whatsapp.com/GpbL2uH7EpwLuLneDzwLLu
International Groups
Basic English 1
https://chat.whatsapp.com/L9GbZif4rtK15ilGzFKNeH
Basic English 2
https://chat.whatsapp.com/E4FRcBpDvhiLiyRNUfwwOd
Average English 1
https://chat.whatsapp.com/Fkcpyg0eperLk5Rcsf499u
Average English 2
https://chat.whatsapp.com/Lf7JUrjWyS32SOMUu5cR7h
Average English 3
https://chat.whatsapp.com/CQ9kIQlRvwyC1JZ2CnKdgi
Intermediate 01
https://chat.whatsapp.com/I11sgS5O9ETJdU7JtQmzkU
Intermediate 02
https://chat.whatsapp.com/L0dUsK97mPA0FgmeKogyLG
Intermediate 03
https://chat.whatsapp.com/DkDEEiHH6t6GLpwJPYtyFx
Intermediate 04
https://chat.whatsapp.com/HzoWpI9XZHCCcs8qqZn9uF
Intermediate 05
https://chat.whatsapp.com/EIbjbY4eO4c71K6OuDOcKz
Fluent
https://chat.whatsapp.com/BnXNL35guv12mT6vM4h9N1
Pakistani and Indian Groups
Spoken English Group 1
https://chat.whatsapp.com/34jxvdvXAhl6S1Pqc9QgZt
Spoken English Group 2
https://chat.whatsapp.com/LVYehooDxQ20hoieJsJclf
Spoken English Group 3
https://chat.whatsapp.com/9MMygoKXzkfF56ErZrspDg
Spoken English Group 4
https://chat.whatsapp.com/C1OpcK2lNWUCgTfzOjPg1Y
Spoken English Group 5
https://chat.whatsapp.com/CAQRXrwcNslJD8LEvsH1co
Spoken English Group 6
https://chat.whatsapp.com/Dkm3MTxHHolHAShfw0gLep
Spoken English Group 7
https://chat.whatsapp.com/KZdYtdMcE523Y9njmzcImJ
Spoken English Group 8
https://chat.whatsapp.com/LRplf7QuwaWDqxlnubzL20
Spoken English Group 9
https://chat.whatsapp.com/IWRK5sr5Pc90YuwnaEJ50d
Spoken English Group 10
https://chat.whatsapp.com/Fw7JJe58zmV9Q6mLaQChmI
Spoken English Group 11
https://chat.whatsapp.com/BgZHK6wYkkaFK3FUoZ4d44
Spoken English Group 12
https://chat.whatsapp.com/Gr1dY5A9udI1qzZUkr4VXw
Spoken English Group 13
https://chat.whatsapp.com/KMBcwZrg268F41pm9i7Bxk
Spoken English Group 14
https://chat.whatsapp.com/Fo8QnU2szJW64PILhbOexY
Spoken English Group 15
https://chat.whatsapp.com/GSCuQLAPmM6Jk0X19VQnTl
Spoken English  Group 16
https://chat.whatsapp.com/27oczg2ziOQFi1PCSwyYnT
Spoken English  Group 17
https://chat.whatsapp.com/FTXWKjHmWtVEVHdoOkZByx
Spoken English  Group 18
https://chat.whatsapp.com/Epvw3Vvcw0f7HviwXzY4nD
Spoken English  Group 19
https://chat.whatsapp.com/BioHXLfvtiB6kmBqqe1K2c
Spoken English  Group 20
https://chat.whatsapp.com/EwATgIPBwFaKKiuQAwj6S4
Spoken English  Group 21
https://chat.whatsapp.com/invite/Cc9LsqYFFApFfMgOVTnlIx
https://chat.whatsapp.com/invite/HvTmaqdLqdzATbk78dp5dv
https://chat.whatsapp.com/invite/GrvJbNVmPxuByiA47y9iKu
https://chat.whatsapp.com/invite/FaYNs6KmBnXCVaaRNmdaa8
https://chat.whatsapp.com/invite/AmhFzm7OtQ49EViuzkwU1e