35 Daily Use English Sentences for Speaking English in Summer that are full of vocabulary used in the summer season. Contextual vocabulary is the vocabulary that is used in some particular context or topic, and guess what, contextual vocabulary can be very useful for speaking English fluently. When you learn vocabulary or sentences on a particular topic, you feel confident that you are now able to speak English on that specific topic. So, why not boost your confidence in SPEAKING ENGLISH IN SUMMER.
Summer Related English Sentences in Urdu and Hindi Video Lesson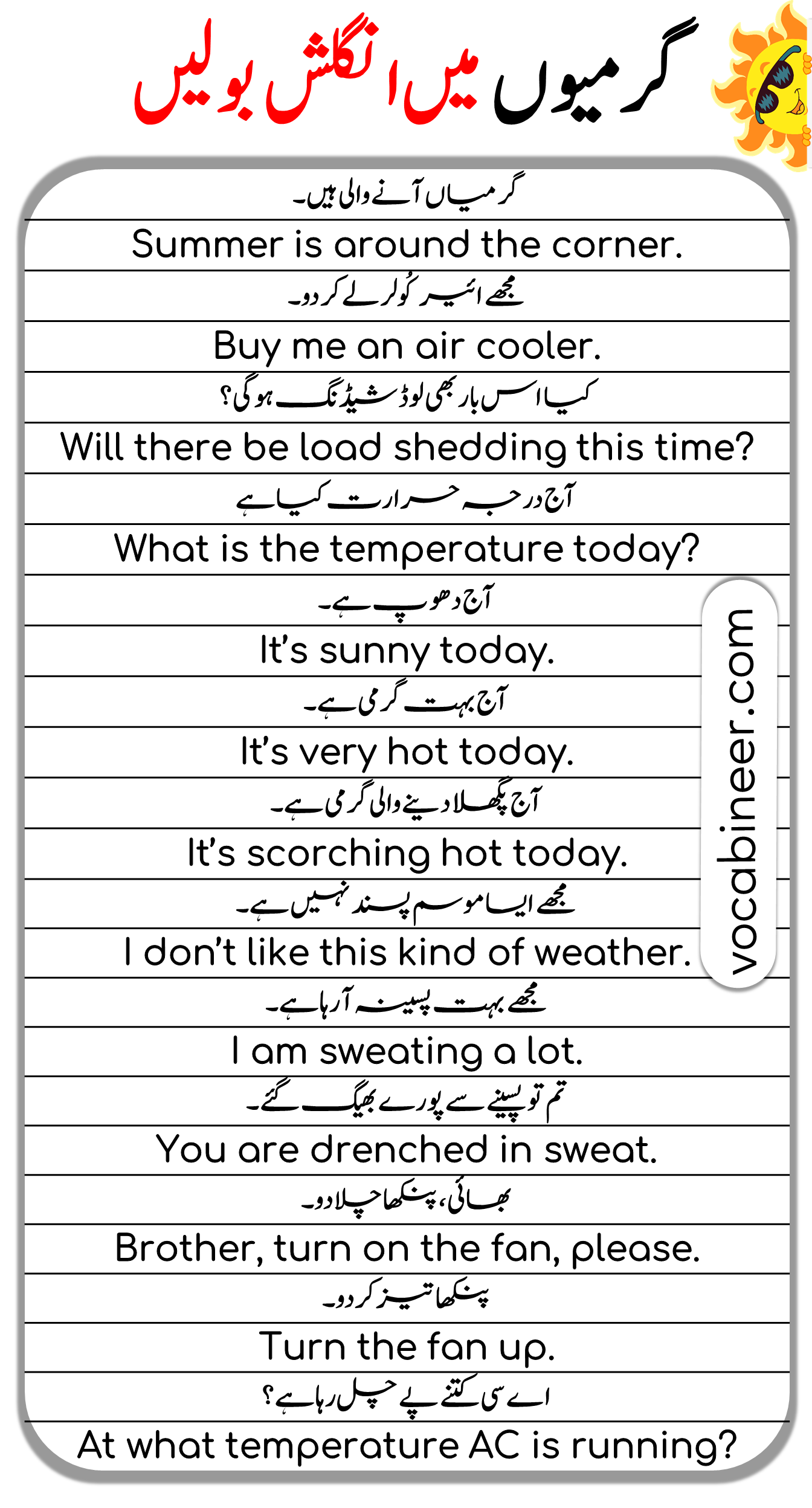 English Sentences and Vocabulary Used in Summer
Garmyan aany wali hein
Summer is around the corner.
مجھے ائیر کُولر لے کر دو۔
Mujhy air cooler ly kar do.
Buy me an air cooler.
کیا اس بار بھی لوڈشیڈنگ ہوگی؟
Kia iss baar bhi load shedding hogi?
Will there be load shedding this time?
Aaj darja hararat kia hy?
What is the temperature today?
Aaj dhoop hy.
It's sunny today.
 Aaj bohat garmi hy.
It's very hot today.
آج پگھلا دینے والی گرمی ہے۔
Aaj pighla deny wali garmi hy.
It's scorching hot today.
مجھے ایسا موسم پسند نہیں ہے۔
Mujhy aesa mosam pasand nahi hy.
I don't like this kind of weather.
Mujhy bohat paseena aa rha hy.
I am sweating a lot.
تم تو پسینے سے پورے بھیگ گئے۔
Tum toh paseeny sy pooray bheeg gye
You are drenched in sweat.
Bhai, pankha chala do.
Brother, turn on the fan, please.
Pankha tezz kardo.
Turn the fan up.
AC kitny py chal rha hy?
At what temperature AC is running?
AC 26 py krdo.
Set the AC temperature to 26 degrees.
Mujhy pyass lagi hy.
I am thirsty.
Aap kia peo gy?
What would you like to drink?
Mein leemoon paani peon ga.
I'd like lemonade.
کولڈ ڈرنکس سے پیاس نہیں بجھتی۔
Cold drinks sy pyaas nahi bujhti
Cold drinks do not quench thirst.
آج تو کچھ بھی کھانے کو دل نہیں۔
Aaj toh kuch bhi khaany ko dil nahi.
I don't feel like eating anything today.
کیا یوپی ایس کی بیٹری چارج ہے؟
Kia UPS ki battery charge hy?
Is the UPS battery charged?
چارپائی برآمدہ میں بچھا دو۔
Charpai baramday mein bicha do.
Put the coat in the veranda.
Sofa lounge mein rakh do.
Put the sofa in the lounge.
Bohat habs hy yahan.
It's very suffocated here.
Roshan daan khol do.
Open the ventilator.
گرمی میں کچن میں کام کرنا بہت مشکل ہے۔
Garmi mein kitchen mein kaam krna bohat mushkil hy.
It's very tough to work in the kitchen in summer.
Usay garmi daany nikal aye.
He got prickly heat.
Heatstroke sy kesy bachen?
How to prevent heatstroke?
ڈیہائڈریشن سے بچنے کےلیے پانی زیادہ پیو۔
Dehydration sy bachny kliye zyada pani peo.
Drink enough water to prevent dehydration
Nangay paon mat chalo.
Don't walk barefooted.
مجھ سے گرمی برداشت نہیں ہوتی۔
Mujh sy garmi bardasht nhi hoti.
I can't stand the heat.
Pankha gram hawa dy rha hy.
The fan is blowing hot air.
زیادہ مصالہ دار چیزیں مت کھاؤ
Zyada masalha daar cheezen mat khao
Don't eat over spicy things.
Loo chal rahi hy.
It's blowing hot.
Aaj mosam thora acha hy.
The weather is a little better today
گرمی کا موسم ختم ہو رہا ہے
Garmi ka mosam khatm ho rha hy.
Summer is coming to an end.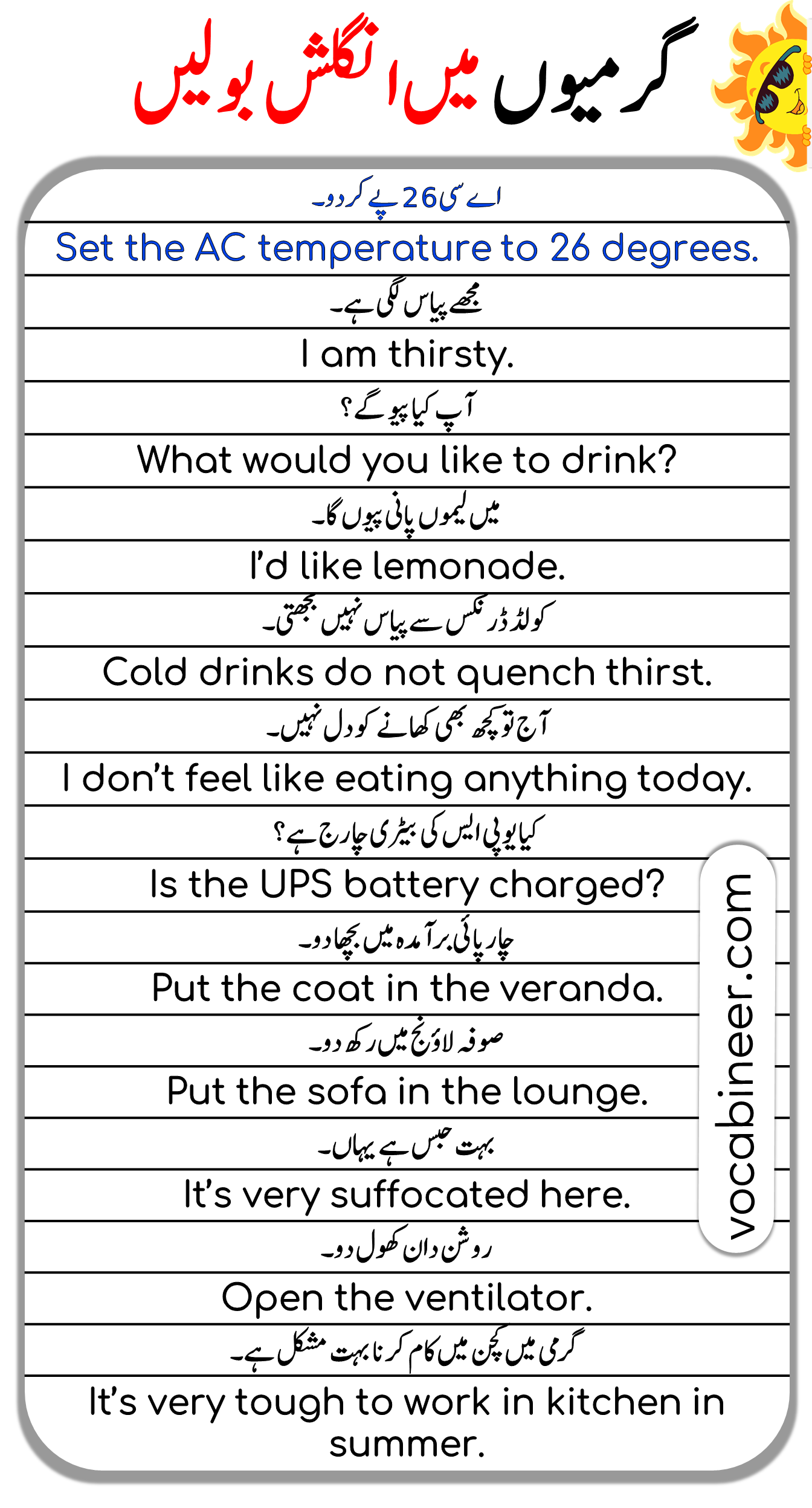 Click Here
Download Summer sentences PDF